Summary rating from
2
user's marks. You can set own marks for this article - just click on stars above and press "Accept".
Accept
Ford Focus Electric
Price:
$29,170
Pros:
1. Packed with standard features
2. Fun to drive
Cons:
1. Higher price for its class
2. Basic in design and interior
Back to reviews
Visit website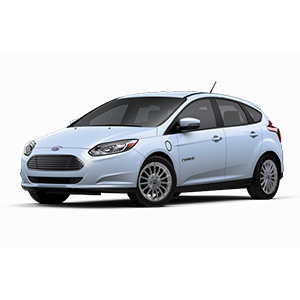 The Ford Focus Electric is Ford's answer to the demand in popularity of electric cars over the past couple years. Deciding to place a fully electric trim within the Focus model, it is their hope to provide the economy and eco-friendliness of electric vehicles within a model that is still reasonably roomy with a lot of features. The Focus is the mid-level range of Ford's sedan offerings, classifying in the compact category. Ford has done a reasonably good job, however, of merging the fun of driving a Focus with the energy savings of their fully electric drivetrain.
The Focus E, much like the Kia Soul EV and the Nissan Leaf, are designed with affordability and economy in mind. Although the Focus E is packed with tons of technological features, many of which are equally as convenient as they are innovative, performance and range are mid-level at best. For a great get around town car, however, the Focus E is a great choice. With the Ford name behind this model, as well as their excellent service and support track record, you can rest assured that you will have a winner with this choice.
The MSRP is a little high for its class at $29,170, which is definitely high for a compact car in its class anyway, but it is naturally to be expected that if you want a compact electric vehicle, you will pay between $25,000 and $30,000. The technology isn't necessarily new anymore, but it is new enough to still warrant a slightly higher price point than the traditional gas engine driven models. The range is a little less than cars in its class, and even less than the 2014 model, at only 76 miles. You do get slightly higher horsepower, however, at 123. Although it isn't quite enough to blow your neighbor's doors off, it yields an 8.5 second 0-60 time, which is enough for casual driving around town.
The centerpiece of the Focus E and the main showcasing point, by far, is the technology. A lot of time and money have been wrapped up in the development of the onboard technological features of this vehicle, which clearly reflects in the price tag. But what you get is great. One of the more impressive features is the Brake Coach, an intelligent instructive system that can show you how to minimize power consumption by utilizing smart braking techniques. Connectivity options are nice as well, allowing you to sync and connect to your favorite devices to make calls, access your music and much more.
The quick charging system can provide full power in as little as 4 hours, through at-home charging docks or charging stations all over the country. With only a 76 mile range, however, depending on the area in which you live, there might not be too many options that will allow you to get very far without having to stop and recharge or run your battery flat. Regardless though, we find the Ford Focus Electric to be a good entry into the compact electric vehicle market and expect great things from the big auto manufacturer in the coming years with more development. It is for that reason that the Ford Focus Electric rounds out our list of iReviews 2015 best electric cars.
Related YouTube videos: