Summary rating from
2
user's marks. You can set own marks for this article - just click on stars above and press "Accept".
Accept
Nissan Leaf SL
Price:
$27,620
Pros:
1. One of the most popular brands
2. Very affordable for an electric car
Cons:
1. Low performance and acceleration
2. Less technologically advanced than other models
Back to reviews
Visit website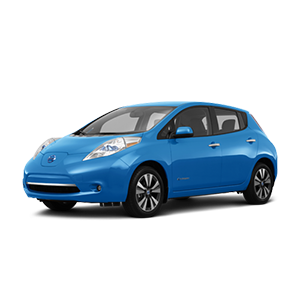 The Nissan Leaf SL is one of three variations of electric car offered by Nissan under the Leaf model. At the higher end of the price spectrum, the Leaf SL has an MSRP of $27,620 after federal rebates. The Leaf S, the lower variation, has an MSRP of considerably less at $21,510 after federal rebates. For the extra $6,000 above the base model, you get a lot of extra features, making the increased price tag worth going all in for. Regardless of your selection, though, the Nissan Leaf SL has proven to be a dependable electric solution since being introduced in Japan and the US in December 2010. Combine that with the fact that it is currently the most popular electric car on the market today, with the most units sold, and you have a winning combination for an affordable price.
The Leaf is touted as a car that requires less maintenance than other models, due to being built with fewer parts. It is designed to be plugged in, charged and then pointed in your desired direction. The technologically advanced instrument panels are aesthetically pleasing as well, and you know you are in for a top notch ride as soon as you turn the Leaf on and hear the welcome chime. It is a popular sales point made by automobile dealers that their car is fun to drive, but Nissan lives up to that fully with this model. A luxurious leather interior with a leather-wrapped, heated steering wheel provides the utmost in comfort and displays are both practical and easy to read, keeping you apprised of charge levels, range, power usage and more.
The Nissan Leaf SL has a range of 84 miles and a charge time of about an hour for 80% capacity and about 4 hours for 100%. Charging can be done in the comfort of your garage with the home charging dock, or can be done at one of many charging stations popping up across the country. Another choice is the optional onboard charger, which reduces the charge times by half compared to the previous year's model, which took 8 hours for a full charge. Performance is nominal for an electric car, compared to other models, at 107 horsepower. Acceleration was a little slow, at a 0-60 time of about 10.2 seconds.
Included with the SL trim package are an intelligent key with pushbutton start, Bluetooth hands-free phone system, heated front and rear seats, rear view camera, Nissan Navigation System and CARWINGS communication through mobile devices that allows you to check the status of your car remotely, as well as schedule non-peak charges and much more. Also included are 17 inch alloy wheels, automatic headlights and fog lamps and much, much more.
The Leaf doesn't stop there when it comes to eco friendliness. In addition to giving off zero tailpipe emissions, the Leaf also uses cloth trim for the interior that is made from recycled plastic bottles. Nissan has outdone themselves again with the best-selling electric car on the market to date and the Nissan Leaf SL is a worthy inclusion on our list of iReviews 2015 best electric cars.
Related YouTube videos:
Embed: <a href="http://electric-cars.ireviews.com/nissan-leaf-sl-review"><img src="http://www1.ireviews.com/images/2015-iReviews-silver-badge.png" alt="Nissan Leaf SL iReview"/></a>