Summary rating from
2
user's marks. You can set own marks for this article - just click on stars above and press "Accept".
Accept
Kia Soul EV
Price:
$26,200
Pros:
1. Best value in its class
2. Leading cargo space in its class
Cons:
1. Design isn't as appealing as other models
2. Interior isn't as nice as other models
Back to reviews
Visit website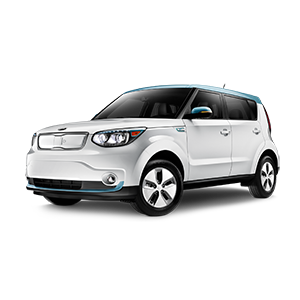 The Kia Soul EV is a solid entry into the electric car market in its second year of production. It is built to be economical and affordable, much like a lot of the other models in the Kia line. With an MSRP of $26,200, it provides the best value in its class. The Soul is even newer in the US, with sales just starting here in October 2014. As a result, this is the first year we have the opportunity to consider this model on our list of best electric cars. With a decent amount of room and cargo space for a compact car, but performance and range on the lower side, the Kia Soul EV is in the median range of offerings that are currently available. Nonetheless, it has a lot of promise and has the potential to be a major contender in the electric car market in the coming years.
The Soul EV features an innovative design that does the best it can to maximize cabin space for both passengers and cargo. One of these design features is a battery pack that is underneath the seats. This batter pack is also heated, which keeps the Soul EV running in the coldest of weather conditions. The Soul EV is all about comfort and Kia makes it their mission to accommodate a variety of situations, all within a compact and light body design. When you are trying to increase performance and efficiency in an automobile, one of the first things that have to go is weight, but in a way that doesn't sacrifice creature comforts and conveniences.
Kia rises to that challenge with an adequate offering when it comes to economy and performance. With 93 miles of range, the Soul EV can travel further than any other electric vehicle in its class. Their quick charger can charge the battery up to 100% in as little as 4 hours, which rivals a lot of the other electric vehicles in its class as well. When you get to performance, however, you will find the Soul EV to be a little lacking and maybe even sluggish. The 109 horsepower motor has a 0-60 time of about 8.1 seconds. These specs are slightly better than its popular competitor, the Nissan Leaf, which Kia seems to have built the Soul EV to compete against for sales this year.
The Soul EV is built with technology that is designed to not only be practical and cool, but also maximize power savings, which in turn extends the range of travel between charges. Like a lot of other electric vehicles, you have the option to charge the Soul EV at home or at one of the many charging stations popping up around the world. Furnished with Organic LEDs, a low-power 3.5 inch display, advanced climate control technology and other features, you get those critical extra miles of range that can add up to significant savings as the months go by.
All in all, we consider the Kia Soul EV to be an adequate offering, a good middle-of-the-road choice if you are looking for a decent, base-level model of electric vehicle that won't break your bank. With power saving features and maximization of interior roominess in every way possible, we are happy to include the Kia Soul EV on our list of iReviews 2015 best electric cars.
Related YouTube videos:
Embed: <a href="http://electric-cars.ireviews.com/kia-soul-ev-review"><img src="http://www1.ireviews.com/images/2015-iReviews-bronze-badge.png" alt="Kia Soul EV iReview"/></a>